Messages
WELCOME
Welcome to the web site of the Northern Oneida County ATV Club, Inc. in Boonville, New York
Thank you for visiting us on the web. Also, you can visit us on Facebook as nocatvclub
---
CLUB MEETING
The club will hold its next meeting of the 2022 season on Wednesday, August 24. 2022
Follow us on Facebook and at nocatvclub for the status of our future meetings.
Additional raffle prizes: 10-PC PLIERS SET... FROM BOONVILLE AUTO 3 POCKET TRUNK ORGANIZER AND COOLER SET ... FROM ANONYMOUS DONOR 1 LEATHER TOTE WITH BOTTLE OF WINE ... FROM CHARLIE LIQUORS 1 DELUXE DELL LAPTOP CARRYING CASE, WITH MANY POCKETS ... FROM ANONYMOUS DONOR
---
NOCATV CLUB TRAIL STATUS THE NOCATV CLUB OFF ROAD TRAILS ARE OPEN FOR THE 2022 SEASON UNTIL SEPTEMBER 30, 2022.
Thank you for respecting our club trails.
---
NOCATV CLUB SWAG
Car and truck decals now available for $4.00 each including postage.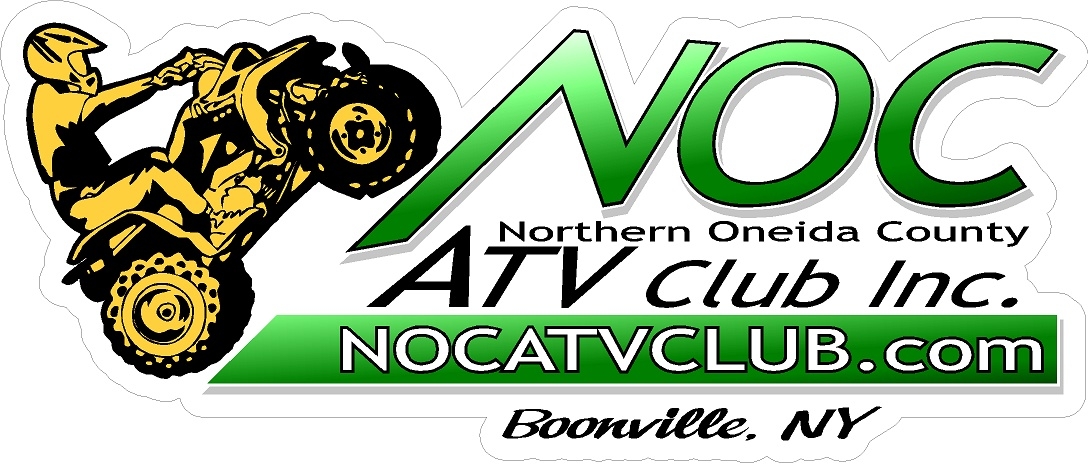 ---
2022 LEWIS COUNTY OHV MAPS
The 2022 Lewis County OHV Trail maps are now available. Send a check for $5 each includes postage with a note for 2022 LC map to NOCATVCLUB, PO Box 198, Boonville, NY 13309. They can also be purchased during the club monthly meetings. They are also available at Charlie's Liquor in Boonville.
---
LEWIS COUNTY OHV TRAIL STATUS
THE LEWIS COUNTY OFF HIGHWAY (OHV) TRAILS ARE OPEN UNTIL OCTOBER 10, 2022. PLEASE RESPECT THE LANDOWNERS.

---
2022 NOCATV CLUB MEMBERSHIPS
NORTHERN ONEIDA COUNTY ATV CLUB, INC. MEMBERSHIP FORM
The 2022 applications are now available on the Membership page or Links page. Still $20 for single or family membership. A NOCATV Club membership also entitles the card holder to a $20 discount on their first Lewis County OHV Trail Permit. (Permit discount may be discontinued at any time by the Lewis County OHV Trail System, without prior notice.)
---
NOCATV CLUB SWAG
We have NOCATV Club T-shirts, coozies, hats, key chains and window cling decals and Lewis County ATV Trail System maps for sale.
Pictured below are the assorted colors we have available.
Contact us to make arrangements if you are interested in purchasing any of these.
You can see the hats and shirts from this link
hats and shirts
and the coozies from this link
coozies
---
THANK YOU
Thank you to the Harland J. Hennessey VFW Post 5538, 108 Park Avenue, Boonville for hosting our monthly club meetings. Stop in and support them!