Messages
Welcome to the web site of the Northern Oneida County ATV Club, Inc. in Boonville, New York
Thank you for visiting us on the web. Also, you can visit us on Facebook as nocatvclub.

---
The club will hold its next meeting of the 2021 season on April 28, subject to the Covid-19 health rules of social distancing and the wearing of masks/cloth face coverings if still mandated. Follow us on Facebook and at our website, nocatvclub.com for the status of our future meetings.

---
Coming soon ......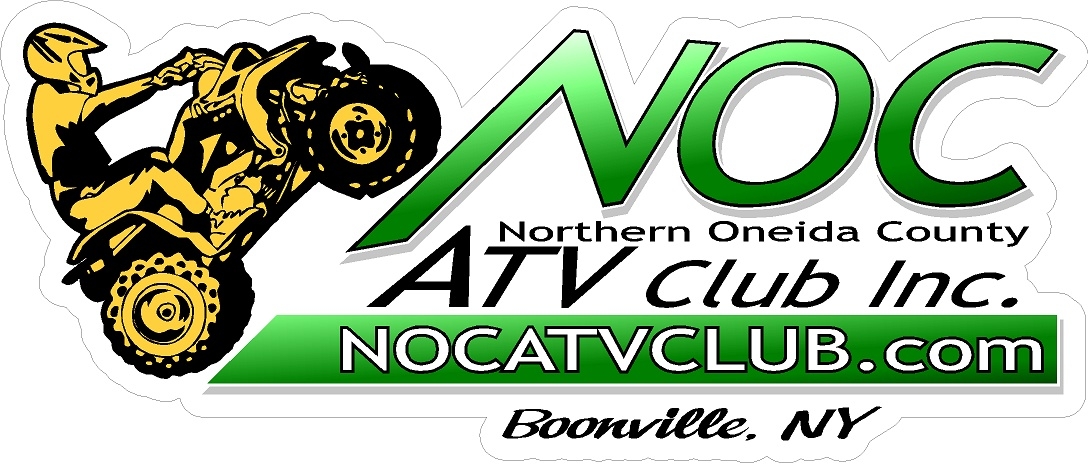 ---
THE NOCATV CLUB OFF ROAD TRAILS ARE CLOSED FOR THE 2020 SEASON. They will reopen in the spring on May 1, 2021, weather and Covid-19 permitting.

---
The 2021 Lewis County OHV Trail maps are now available. Send a check for $5 includes postage with a note for 2021 LC map to NOCATV Club, PO Box 198, Boonville, NY 13309. They can also be purchased during the club monthly meetings or at Charlie's Liquor, 102 Railroad Avenue Boonville, NY 13309 Phone: 315-378-7592.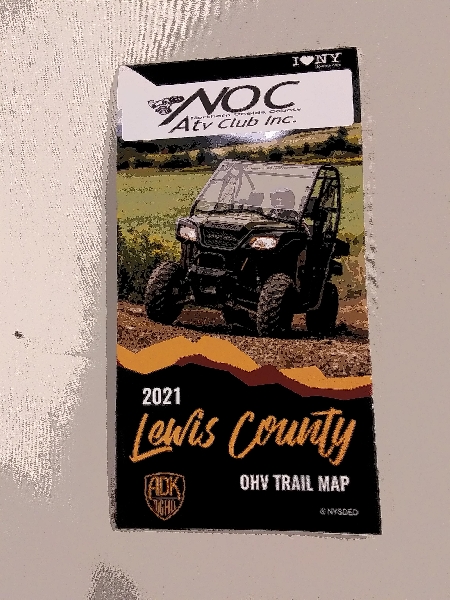 ---
THE LEWIS COUNTY OFF HIGHWAY (OHV) TRAILS ARE CLOSED AT LEAST UNTIL APRIL 1, 2021. PLEASE RESPECT THE LANDOWNERS AND STAY OFF THE TRAILS.

********************* UPDATE ***********************

THE LEWIS COUNTY OFF HIGHWAY (OHV) TRAIL PERMIT WEB SITE IS NOW SELLING 2021 PERMITS EFFECTIVE MARCH 18, 2021.
---
NORTHERN ONEIDA COUNTY ATV CLUB, INC. MEMBERSHIP FORM
The 2021 applications are now available on the Membership page or Links page. Those applications dated after August 9,2020 will apply for the 2021 season. Still $20 for single or family membership. A NOCATV Club membership also entitles the card holder to a $20 discount on their first Lewis County OHV Trail Permit. (Permit discount may be discontinued at any time by the Lewis County OHV Trail System, without prior notice.)
---
On the links page, a Volunteer form and Time card for any club members that would like to volunteer maintaining LC OHV trails by weed trimming or other help.
---
Lewis County ATV Trail System Law
LOWVILLE — For the first time in 10 years, the local law governing the Lewis County trail system has been "re-established," compiling all of the relevant laws and updates made over the years into one piece of legislation that also better reflects the current market trends in recreation.
Local law 2-2019 was unanimously approved by the Lewis County Board of Legislators at their regular meeting on Tuesday, after some discussion surrounding the addition of UTVs, also known as "side-by-sides," to the list of acceptable off-road vehicles on the trail system, joining all terrain vehicles and dirt bikes.
District 7 Legislator Gregory Kulzer questioned the liability issues that may be involved by allowing UTVs over 1,000 pounds on the trails despite the fact that they do not qualify for registration in this state.
Recreation Parks and Forestry Director Jackie Mahoney said there is always potential liability involved when riders are using the trails but that potential isn't increased for UTVs because no state registration is required for trail riding and in order to get a trail permit, all off-road vehicles are required to present proof of insurance.
Mrs. Mahoney said in a separate interview that New York is the only state that does not allow UTVs weighing up to at least 1,500 pounds, but for many up to 2,000 pounds, to be registered.
Part of the reason to re-work the local law is to compensate for antiquated state laws written in the 1980s because an increasing number of trail users drive UTVs instead of ATVs.
UTVs up to 2,000 pounds are now allowed only on county trails, not on roads which are governed by state law.
Like the state, many of the village ATV laws were also written in the 1980s and '90s when many or most village roads were open to ATV use to go from trail to trail, however, Mrs. Mahoney said there has been controversy in places like Constableville and Turin where those laws were changed at one point to close village roads.
When the county law was written in 2009, any village or town that had not changed its laws within six years was grandfathered in and could remain; however, those that did make changes within that time frame were required to make changes that Mrs. Mahoney referred to as "vague," making the implementation confusing and difficult for municipal leaders.
A Constableville resident successfully sued to ensure village roads would not allow ATVs and a Turin resident has frequently threatened to do the same, Mrs. Mahoney said.
Laws set in the 1980s by the state and the county in 2009 haven't "caught up to the market," because UTVs weren't popular during those periods, limiting the potential for recreational tourism, but by allowing the vehicles on off-road trails only, Mrs. Mahoney feels they have solved that issue.
"You can be more restrictive but you can't be less restrictive than the vehicle and traffic laws allowed by the state," she said.
UTVs with permits will only be able to cross over roads to go from trail to trail, not travel on the roads.
The local law also makes exceptions for use of some trails that may be marked as "closed" or otherwise limited by the county.
"There will be some trails restricted by weight and size," Mrs. Mahoney said, but they will be marked on the map and with signs.
Another big change in the new iteration of the trail law involves "putting some teeth to the violations" of the law, Mrs. Mahoney said.
In 2009, fines for breaking trail laws were $100, but now, driving on the trails without a permit, going on property that is not in the trail system and any other violation of the trail law will incur a $250 fine the first time and $500 the second time.
Going over the 25 miles-per-hour trail speed limit will net a $500 fine.
The new law also brings together all legislation relating to trails.
"These laws needed to be put in one place. There are about 16 laws that have been added since 2009," Mrs. Mahoney said.
The trail system is composed of a mixture of county-owned re-forestation properties and private land volunteered for the system.
All trail drivers must pay for seasonal trail permits or trail passes, which can take up to two weeks to issue, to use the trail system.
For more information about permits and passes or to view trail maps go to https://www.lewiscounty.org/departments/recreation-forestry-and-parks/recreation-forestry-and-parks.
This article is courtesy of
Lewis County Legislature re-establishes trail system law

---
NOCATV CLUB SWAG
We have NOCATV Club T-shirts, coozies, hats and Lewis County ATV Trail System maps for sale.
Pictured below are the assorted colors we have available.
Contact us to make arrangements if you are interested in purchasing any of these.

You can see the hats and shirts from this link hats and shirts and the coozies from this link coozies
---
Thank you to the Harland J. Hennessey VFW Post 5538, 108 Park Avenue, Boonville for hosting our monthly club meetings. Stop in and support them!