Messages
Welcome to the web site of the Northern Oneida County ATV Club, Inc. in Boonville, New York

Thank you for visiting us on the web. Also, you can visit us on Facebook as nocatvclub.

---
The club will hold its next meeting of the 2021 season on May 26, subject to the Covid-19 health rules of social distancing and the wearing of masks/cloth face coverings if still mandated. Follow us on Facebook and at our website, nocatvclub.com for the status of our future meetings.
---
2021 Chicken BBQ Volunteers from L to R are John M. Lynda F. Justin S. John F. Earl W. Vickie V. Dave S. Carl. Pat W. Greg S. Nor shown are volunteers Shaun R. and MJ R.
---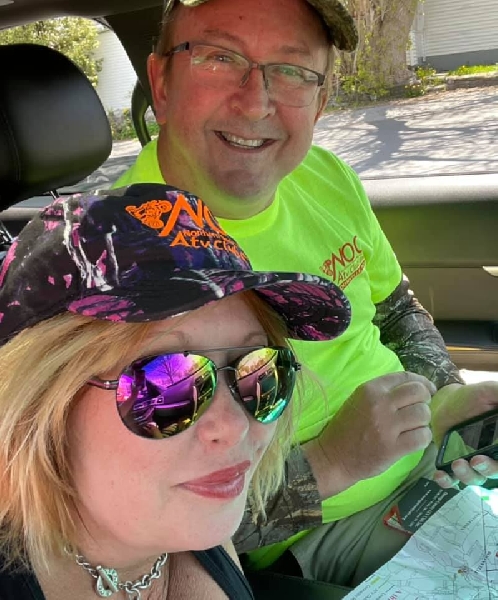 2021 Chicken BBQ Volunteers from L to R are MJ R. and Shawn R. both wearing their NOCATV Club gear.
---
NOCATVCLUB would like to thank the volunteers both members and non-members who made the BBQ possible. Team work! Fastest we've ever sold out. Also, thank you to all those that stopped by the BBQ today to purchase dinners and those that bought raffle tickets or merchandise.
---
---
A complete list of prizes for the 2021 NOCATVCLUB raffle:
First prize: $150 Lottery board donated by NOCATVCLUB
Second prize: $100 Bass pro gift card donated by NOCATVCLUB
Third prize: $50 Tractor supply gift card donated by NOCATVCLUB
Fourth prize: $50 Value BBQ gift basket donated by Countryside Stove
Fifth prize: $20 NOCATVCLUB family membership donated by NOCATVCLUB
Additional prizes to be drawn:
Leather tote with bottle of wine (over 21 to win) donated by Charle's Liquor
Wine and cheese tote for two (over 21 to win) donated by J. Mack
12 pc cushion grip screwdriver set donated by L. Frederick
10 pc set of various pliers donated by Boonville Auto Parts
Woodsmens hat donated by Woodsmens Association